Yellow light therapy is also sometimes referred to as amber or orange light therapy. It is often considered to be an ideal therapy for sensitive skin, as its therapy is calming and soothing. Yellow / Amber light therapy helps reduce the appearance of redness, swelling and inflammation on the surface. This color of light is beneficial for rosacea and the treatment of burns. This includes sunburns!
Overall Benefits of Yellow Light Therapy:
Provides Stimulants for the sensory and motor nervous system
Helps tone muscle
Increases energy state
Relieves Pain from skin related conditions
Improves the lymphatic system
Reduce skin redness
100 percent natural and non-invasive
Drug-free with no reported long- or short-term side effects
Safe for regular daily use
Requires very little time and/or effort
Simple to self-administer
Easy for home use
Does not lose effectiveness over time
No down-time
Yellow light is well known for its overall calming and rejuvenating benefits. Aside from its uses in easing the symptoms of rosacea, it is also often used for: soothing irritated or sensitized skin, reducing skin redness, stimulating the production of red blood cells for skin healing and revitalizing, calming swelling and inflammation, decreasing the look of visible blood vessels and even minimizing the damage of burns.
Does LumaSoothe Feature Yellow Light Therapy?
Yes it does, LumaSoothe features 4 Yellow Lights  490nm in the Surface Treatment Module (ST) that is included with your purchase. In addition to the Yellow light, the Surface Treatment Module features; 16 Red at 650nm, 12 Green at 520nm and 8 Blue at 470nm. This particular combination of lights can provide your dogs and cats multitude of treatment options. Treatments range from cuts to wounds, regrowth of lost hair and much more.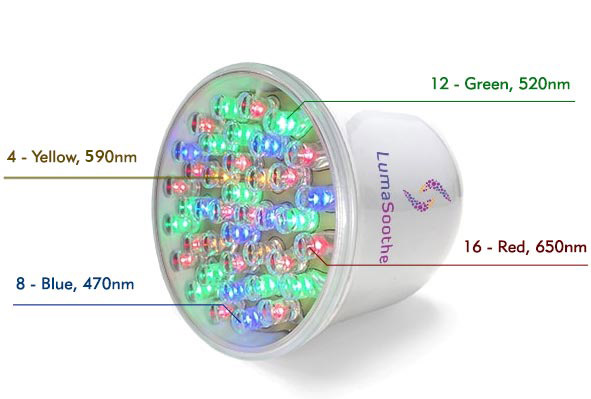 [mailmunch-form id="509784″]
Save