LumaSoothe 2 Treatment Modes
LumaSoothe 2's unique design combines 5 Wavelengths of light therapy into One Multi-Function Head with Two Treatment Modes.
2 Powerful Treatment Modes
Depending on your pets condition, you may need to switch from the default [DT] mode, to the [ST] mode.
[DT] mode is for conditions deep in the joint, muscle areas such as Arthritis, Hip Dysplasia, Back Pain, IVDD and more.
[ST] mode is designed to be used for surface conditions such as hair loss, cuts, wounds, itchy skin etc.
To change modes, press the [Mode] button. Once pressed, the mode indicator on the [LCD Screen] will show the appropriate mode information.
LumaSoothe 2 will always default to the DT mode (Infrared Deep Treatment Mode). If you are treating for any deep bone/joint, muscle related conditions, there is no need to switch treatment modes and you may skip this step.
IR Deep Treatment (DT) Mode
Infrared Deep Treatment Mode's light penetrates to a depth of about 30-40mm which is more effective for bones, joints and deep muscle. When infrared energy (800nm – 1000nm) is delivered to injury / painful areas it dramatically increases circulation (of blood flow), reduces inflammation, and promotes healing.
Relieves the Painful Symptoms:
Surface Treatment (ST) Mode
Surface Treatment Mode provides visible light that penetrates the tissue to a depth of about 8-10mm. These lights at wavelengths of 470nm to 700nm are very beneficial in treating problems close to the surface.
Relieves Skin & Hair Conditions: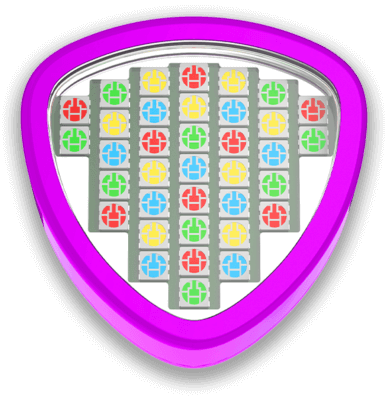 Benefits of each LED Wavelength
Infrared (IR) LED's:
Infrared Therapy or Photo-Biomodulation, is a unique therapy that harnesses the healing powers of infrared light. It emits deep penetration wavelengths of light energy that dramatically increase circulation to injury sites and areas of chronic pain in joints, etc. The result is a rapid relief of discomfort, improvement in sensation, and regeneration of damaged tissues. LumaSoothe's IR Deep Treatment Mode (DT) features – Infrared, 940nm LED's. Infrared LED's frequency is invisible to the human eye.
Red - LED's:
Visible Red Light Therapy [1] is capable of being absorbed by the molecules of the skin and hair follicles stimulating the growth or re-growth of the cells following a natural biological reaction. Additional benefits include the healing of wounds and various other skin conditions, improves or restores range of motion, reduces inflammation, pain and much more. Red, 650nm LED's can be found in both of the LumaSoothe 2 Treatment Modes.
Green - LED's:
Green light targets the cells that produce melanin, called melanocytes, eventually stopping these cells from creating excessive pigments. It also corrects hyperpigmentation, reduces freckling, eliminate sun spots, and is an Anti-Inflammatory which helps reduce pain. In studies the Green light has been shown to lead to an increase in the body's own production of enkephalins which could have lasting pain relief. The Green, 520nm LED's can be found in both of LumaSoothe 2 Treatment Modes. 
Blue - LED's:
Blue light therapy [1] is a branch of alternative medicine that uses natural blue or violet light to cure, treat or prevent unwanted health issues including; MRSA, Depression, Sleep Disorders, Periodontal disease (similar to Gingivitis) and it helps regulate mood circadian rhythms while also killing bad bacteria's. LumaSoothe 2's Surface Treatment Mode (ST) features – Blue, 470nm LED's.
Yellow - LED's:
The Yellow / Amber light stimulants for the sensory and motor nervous system, toning of muscle areas, increase the body's energy state while also relieving arthritis pain, improving the lymphatic system and more. LumaSoothe 2's Surface Treatment Mode (ST) features – Yellow, 590nm LED's.
Happy to help.
If you have any questions, comments please contact us!