Pain Relief & Anti-inflammatory

Relieves chronic & painful symptoms from Arthritis, Hip Dysplasia, Back Pain, Sprains & Strains & Reduces inflammation.
Promotes healthier skin, hair and aids in wound healing.
What's LumaSoothe?
LumaSoothe is a home use, non-invasive low level light therapy (LLLT) treatment device for your pets. Featuring 5 wavelengths of light across 2 treatment modules. It provides pain relief from deep joint & muscle related conditions such as arthritis while also treating your pet's skin & hair conditions such as Wounds, Eczema & Hair loss.

2 Very Powerful Therapy Modules
Included with every LumaSoothe!
IR Deep Treatment (DT)
Relieves the Painful Symptoms Of:
Surface Treatment (ST)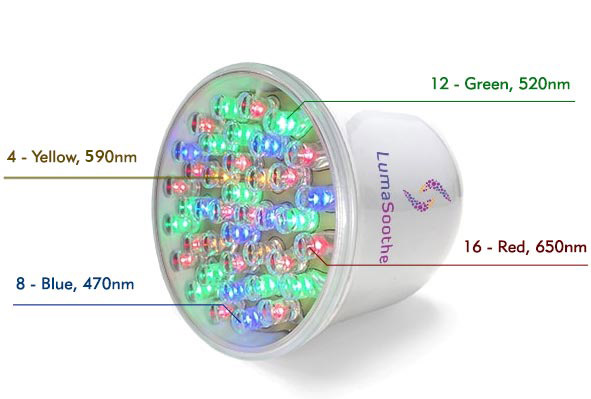 Treats Various Injuries & Skin Conditions:
Excellent preventative therapy for your athletic pet!
How does Light Therapy Work?
Light Therapy introduces natural healing benefits of light to the body (living tissue). The process is very similar to how plants use chlorophyll to convert sunlight into plant tissue. The healing benefits of light trigger cellular stimulation that naturally help the body relieve pain, reduce inflammation, increase blood circulation & cellular rejuvenation.
Is it Safe?
LumaSoothe is extremely safe and effective! We use LED's to deliver the same therapeutic benefits found in lasers without any of the harmful side-effects! It's easy to use and pets enjoy the relaxing automatic 15 minute treatment!

Why are the Lights Flashing?
LumaSoothe features a pulsating light (Called "Pulsed Wave Technology") that provides a more effective treatment! Pulsed Light has been shown in clinical studies to provide faster & more efficient cellular response than constant wave light!
Small but Very Powerful
LumaSoothe is about the size of a tennis ball, weighs only 96 grams (3.4oz) and It fits perfectly in the palm of your hand!
Treatments are very powerful: IR Deep Treatment Module (DT) produces 2,816 Milliwatts (mW) of power. The Surface Treatment Module (ST) produces 2,176 mW of power!

Height = 5.842cm (2.3 Inches)
Diameter = 6.604cm (2.6 Inches)

Built-in rechargeable Lithium-Ion battery
USB Charger & Cable
Power input: AC100~240V,100Ma
Output: DC5V,1A
IR Deep Treatment Module – LED's
32 – Infrared, 940 nanometers (nm)

8 – Green, 520nm

Produces 2,816 mW of power!
Surface Treatment Module – LED's
16 – Red, 650nm

12 – Green, 520nm

8 – Blue, 470nm

4 – Yellow, 490nm

Produces 2,176 mW of power!
Your LumaSoothe is warranted against manufacturing defects for two full years from the date of purchase. Simple, No hassle
LumaSoothe Treatment Unit

2 Interchangeable Treatment Modules

USB charger & cable

Instruction manual
What our customers have to say
Just wanted to let you know that we are very happy with LumaSoothe! We have used it on two horses (tendon & shoulder), and one dog with arthritis so far. We've been pretty impressed with the results so far!
Christina L Garloff (DVM, cVMA, CERP)
from Norco, CA
Save
Trooper the dog gave LumaSoothe a try for several weeks before bedtime to see how Light Therapy would benefit the arthritis in his elbows! Trooper's limp has not returned the entire time he's been testing out LumaSoothe. Trooper enjoyed the treatments so much on his joints that he tends to fall asleep during them!
Kyley, Ammo & Trooper
from Ammo the Dachshund Blog
Save
LumaSoothe seems to be helping my dog Zoe. I have certainly seen improvement in her mobility and attitude, she's pretty much back to her old self! She had been having some difficulty with her back right leg giving out on her but there's no evidence of that being an issue any longer. I continue to give her a 15 minute treatment each evening. Hopefully the IVDD scare is behind us and she can live out the rest of her life pain free!
Karen
from Las Vegas, NV
Save
Save
Kevin our German Shepard, has been suffering from the initial stages of Hip Dysplasia along with arthritis in his hips! We have been giving him Glucosamine supplement for some time. A friend recommended that we try the LumeSoothe device. We immediately began treating Kevin's hips each day. He seems to enjoy the treatment itself and within a week his symptoms began to noticeably improve. He is moving much better and is even enjoying chasing a ball again. We couldn't be more pleased with his progress.
Tracie
from Irvine, CA
Save
Save
Save
We noticed our 7 year old Pomeranian, Lily, was shedding her hair in two areas where her skin seemed to be irritated. We didn't know if this was from excessive licking or some other reason. Our veterinarian suggested that Light Therapy could help so we tried the LumaSoothe device which is very affordable. Within a week of once-a-day treatments, Lily's skin began to clear up. Three weeks later her hair began to re-grow and has been filling in nicely ever since.
Lily
from Kirksville, MO
Save
Save
Save
Save
December 23rd we had very heavy rain all day, later in the early evening it had stopped for a bit. We let Koda out into the garden, he was so excited that he went on a high speed run around it. When turning at speed on the slippy muddy grass his front left leg slid out from under him, injuring the muscles where his leg & body meet. He was limping very heavily & walking very slowly as a result. He remained very sore & stiff & could not jump up on the couch. We started using the LumaSoothe the following day while he was lying on the floor. After two days he could get up on the couch and he feels good enough to play, run around!
Veronica
from San Diego, CA
Save
Save
Save
Save
Save
All Natural, Nothing to eat and upset the animal's tummy, Soothing, Easy to use, Convenient rechargeable unit, Easy to switch out treatment heads, One time cost, Can be used for all pets in the home, Portable: easy to take if you travel, Sturdy packaging great for storing the LumaSoothe in between treatments.
Audra High, Dezi & Raena
from DezizWorld Blog
Save
Save
Save
Save
Save
Save
I bought one of these back in December as a Christmas present for my dog. I'm not going to pretend I understand the science behind it, but I'm convinced that this is well worth the expense.My dog suffers from some alopecia related to season allergies. This device has promoted fast hair regrowth for those areas. Additionally, my dog has IVDD and regularly receives acupuncture. I use this to space out the acupuncture sessions a bit more and it seems to help my dog stay comfortable…
Cindy
Amazon.com Review
Save
Save
Save
Save
Save
Save
Save
Join our mailing list!
It's Free & Packed with Helpful Tips. Once Per Month!