What is Blue Light Therapy?
Blue light therapy is a branch of alternative/holistic therapy that uses natural benefits of blue light to treat or prevent unwanted health issues. Alongside Red, Green and Yello lights LumaSoothe features 8 blue lights at 470nm in the included Surface Treatment Module!
Overall Benefits of Blue Light Therapy
100% natural
It kills bad bacteria.
Drug free Alternative
It helps regulate mood and circadian rhythms.
It supports your liver.
Chemical free
Non-invasive (no needles or knives)
Non-ablative (does not damage the skin)
Painless (does not itch, burn)
Requires zero downtime
Safe for all skin types
Safe for all ages
Bo adverse short or long term side effects
Easily self-administered in your own home
Are there any Side Effects?
Blue light has been researched for decades and FDA approved for various treatments. There are no adverse side effects connected to the use of blue light therapy. Just like any source of light, it is advised not to look directly into the light for any period of time.
Blue Light Every Day Usage
Blue light helps kill bad bacteria, studies report that even the antibiotic resistant kind. It would be a good idea to have a blue light therapy product around the house to disinfect everyday cuts, scrapes, bites and burns for your pets.
Use for Skin Repair
Blue light therapy is often used to treat conditions such as psoriasis, acne, rosacea,wrinkles caused by sun damage and general skin defects associated with age. Our pets are prone to many skin related conditions that we can experience.
Use for Mood Disorders
Just like us, Our Pets can be effected by SAD (seasonal affective disorder). Some pets experience SAD more than others. Although many pets experience minor mood fluctuations due to a lack of adequate sunshine, the more severe forms of SAD can result in debilitating fatigue. SAD can also effect our pets appetite and sever mood disorders. Most pets and people treated with blue light therapy for SAD typically show improvements within 1-2 weeks.
Does LumaSoothe Feature Blue Light Therapy?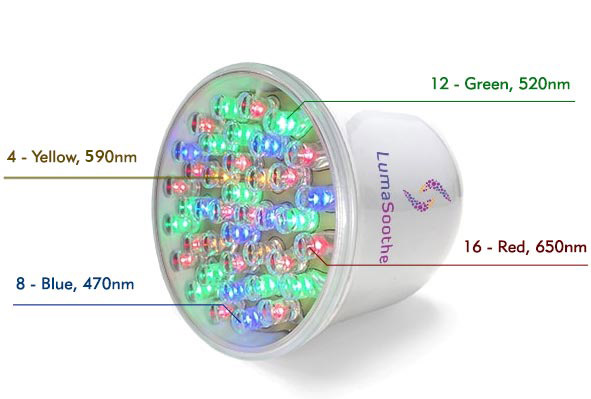 Yes it does, LumaSoothe features 8 Blue Lights at 470nm in the Surface Treatment Module (ST) that is included with your purchase. In addition to the blue light, the Surface Treatment Module features 16 Red at 650nm, 12 Green at 520nm and 4 Yellow at 490nm. This particular combination of lights provide your dogs and cats multitude of treatment options. Treatments range from cuts to wounds, regrowth of lost hair and much more.
[mailmunch-form id="509784″]