In recent years the Red light has become the most popular and common out of all light therapy lights and for very good reasons. This breakthrough treatment, first discovered by NASA, has so many benefits and use. Deep penetrating red light therapy is actually a non invasive, cost-effective, and risk-free alternative to all sorts of skin problems, skin appearance, and is proven to be effective for all sorts of pain. In the recent years Light Therapy has only been available at professional establishments such as veterinarian office or for human use a tanning salon or hair therapy center. Fortunately, you can now get your own red light therapy home device, and enjoy the exact same benefits, but for a fraction of the price. The availability and comfort of having your own device at home when ever you want it is priceless. So, what are all the benefits of red light therapy?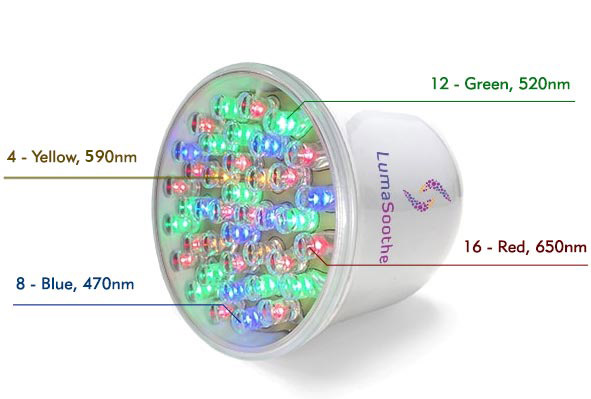 LumaSoothe's Surface Treatment Module Includes 16 Red Lights at 650nm.
Key Benefits:
100% natural

Drug free

Chemical free

Non-invasive (no needles or knives)

Non-ablative (does not damage the skin)

Painless (does not itch, burn or sting)

Requires zero downtime

Safe for all skin types

No adverse short or long term side effects

Easily self-administered in your own home

Smooths overall skin tone

Builds collagen

Speeds the healing

Repairs damaged skin

Reduces redness, flushing, and broken capillaries

Fades scars and stretch marks

Brings more moisture to your skin

Prevents hair loss & stimulates regrowth

Treats a growing list of skin conditions
Red Light Benefits for Skin,Wounds & Pain:
Red light easily penetrates the skin, boosts circulation and bringing more blood and nutrients to the area. It also stimulates vital collagen and elastin production. Collagen helps the skin, while elastin firms the skin. The red light is energizing and repairing damaged cells, stimulating collagen and elastin and giving your pet a more healthy looking and feeling skin.
Speeds the healing of wounds and injuries to the body

Speeds wound healing in even non-healing wounds
Improves or restores range of motion
Reduces inflammation and pain

Reduces the time it takes for ongoing conditions to heal such as Eczema.
Red Light Benefits for Hair Loss:
The most commonly used wavelengths for treating hair loss with red light therapy are in the range of 630 to 670 nanometers (nm).
Visible red light is capable of being absorbed by the molecules of the hair follicle and can stimulate the growth or re-growth of the hair following a natural biological reaction.
[mailmunch-form id="509784″]